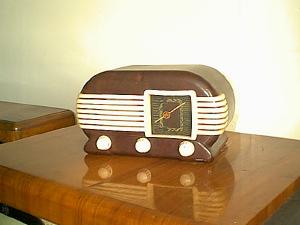 Tesla 307U "Talisman"
Rok výroby/ Production: 1952/53 (Tesla Praha - Hloubětín, n.p.)
Elektronky/ Tubes: UCH21, UCH21, UBL21, UY1N
Popis: Šestiobvodový superhet (KV, SV, DV) s napájením ze střídavé i stejnosměrné sítě 120 a 220V/30-100Hz. Kulatý reproduktor o prům. 100 mm, skleněná stupnice, bakelitová skříň s bílými rámečky, bílé knoflíky, papírová zadní stěna.
---
Description: 6 circuit superhet (SW, MW, LW) with AC/DC 120 and 220 V/30-100Hz power net. Round speaker with 100 mm diameter, glass scale, bakelite cabinet, white knobs, paper back cover. Many export versions with different waveband, power supply, scale, IF frequency (307U-2, 307U-3 etc.).
---
Schází zadní stěna? Stáhněte si kopii.
Missing back cover? Download scan copy.